Your eyebrows are a pretty big deal. You may not realize it until something causes them to go awry (Remember that scene in My Best Friend's Girl, when Jason Biggs has his shaved off? Oh, I'm the only one who saw that movie? Anyway…), but they do a lot—protecting your eyes, helping people recognize you, and yes, giving hints to your personality.
Jean Haner, a facial reading expert who helps directors cast celebs who have faces that match their movie character's personality, says both Chinese facial reading, which stems from Chinese medicine, and western science have found that we react to people's faces without realizing that we're doing it. "It's an unconscious thing, so we can't help it. And according to Chinese face reading, you're born with your eyebrows for a reason. We all come with a [facial] blue print—it's a map of who you are—so any changes you make to your face, including your eyebrows, can shake things up. It creates an internal change that can be a positive thing that breaks you out of old patterns and gets you going again, or hurts you if you're not aware of the effects a certain change could have."
So check out what Haner says your current eyebrow look is communicating to other people, and if you're looking for a change, don't rule out a new trend just yet. It may do you good.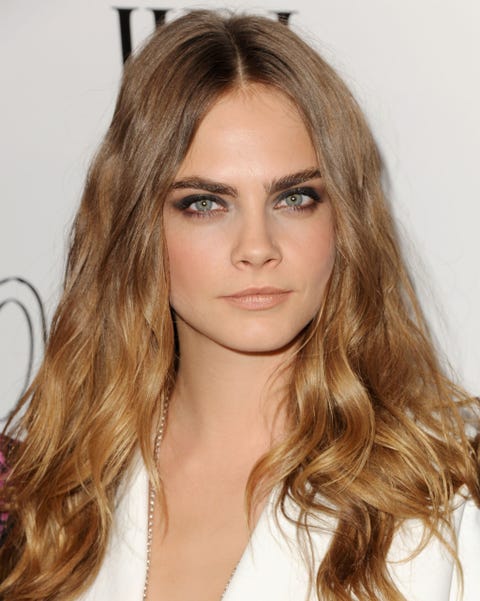 Just looking at Cara Delevingne makes you think that she's a forward-thinking, assertive woman—and that's because of her strong eyebrows. If you've got 'em too, then you likely have a ton of self-confidence, are very decisive, and work hard to get things done—there's no point in lollygagging, as far as you're concerned.
The downside: It's pretty easy to piss you off, and it doesn't take much for you to feel frustrated. Every once in a while, try to take a few deep breaths. Not everyone feels quite as confident as you in their decision-making process, so give 'em a few seconds to get on your level before moving forward.